Gartner defines the Content Marketing Platform (CMP) as "software solutions that support the practice of content marketing."& At NewsCred, we say our CMP& unifies marketing teams with tools to plan, create, govern, and measure integrated campaigns and content.& But what are the actual capabilities you should look for in this MarTech investment, and what features will your marketing teams need to stay competitive in 2019 and beyond?
NewsCred predicts that in 2019, the once-siloed content marketing function& will integrate with the rest of the marketing organization to create collaborative, cross-functional teams that deliver great content experiences — with a CMP being the glue that holds each function together. Marketing organizations that invest in collaboration and breaking down silos will build better teams that produce better-performing marketing content.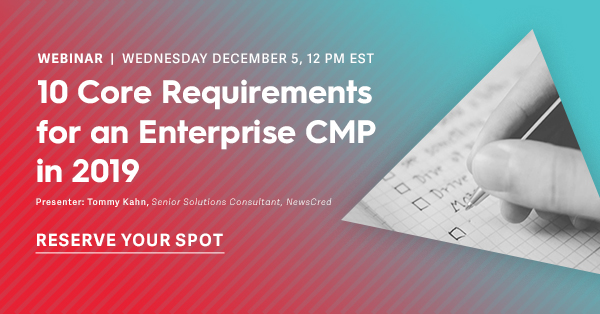 What:& We'll cover the core features of a CMP, how it can support your marketing organization well beyond article content creation and publication, what questions to ask about integrations and analytics to deliver a personalized experience, and how to ultimately identify what's right for your organization.
Who:& This webinar is for marketing leaders across content marketing, marketing ops, and the digital marketing function who want to build better customer experiences in 2019.
When:
Wednesday, December 5th at 12 PM ET (or
click here
for information on our UK webinar).&
&
&

The post [Upcoming Webinar] The 10 Core Requirements for an Enterprise CMP appeared first on Insights.